Last post we talk about base function and feature of
PDF to Flash Converter Pro
. If you have some impression of PDF to Flash Converter Pro., you may know that Edit Page function is the most marked feature. There's no doubt that we are going to talk more
PDF to Flash Converter Pro
today. Yes, the topic today is making good use of edit page function.
Edit page function allows you to add pictures, link, sound, flash file even insert you tube video and FLV movie. Here, let's take inserting pictures for example first. Perhaps you may get a question here. Why we would like to insert a picture into a page? Because some pages may have some spaces and it looks not so good. In addition, maybe you just want to show more pictures in your page or your presentation file to make others know much more about something. However, just click the adding picture button. Then select rang to put your picture. Finally, click button "select an image" on the top right to insert a picture smoothly.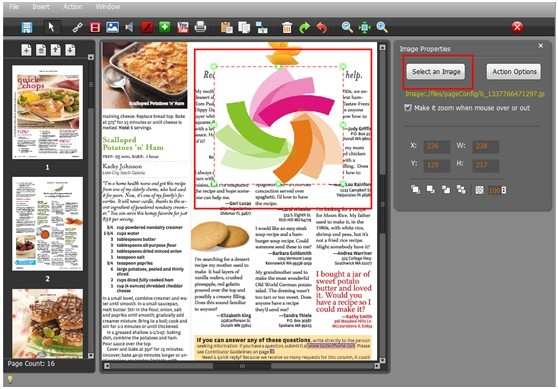 Next, let's learn to adding flash file into pages. The flash effect in your page can help drive much more attention for your flipping than before. Good flash effect play a very important role in making your flash flipping book looks more vivid and impressed. After all, it is quite easy for you adding a flash file into a page. You just need to click SWF button and choose a proper position for your flash file. Then you can view the flash effect.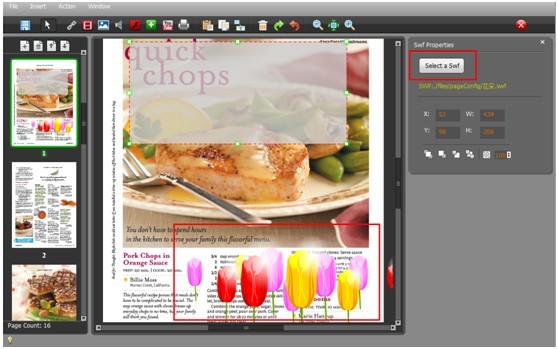 However, adding other elements on a page is as same as inserting picture and video. Just make good use of Edit page function to enrich your flash flipping book and help drive more attention and impression for you
flash flipping book
. Now, just download
PDF to Flash Converter Pro
to adding some wonderful little things on your
flash flipping book
.
To learn more about PDF to Flash Converter please
click here
PDF To Flash Converter
PDF To Flash Converter Mac
PDF To Flash Converter Pro
PDF To Flash Converter Pro Mac
Flash Converter for Shopping